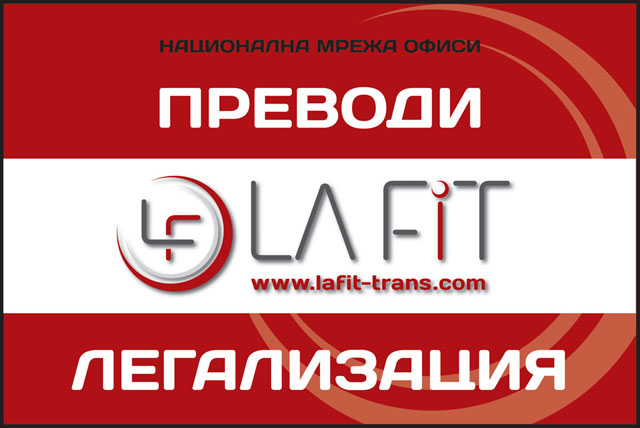 Office network for translation services
La Fit Trans provides services for translations and interpretations, certifications and legalization of documents through an office network on the territory of the Republic of Bulgaria.
In any of the offices, you can request the following translation services:
Translations - official, certified and unofficial (without certifications) translations;
Specialized translations - including additional text processing and graphic design, translations in specialized softwares etc.;
Interpretations - consecutive, simultaneous, accompanying, before notary public etc.;
Legalization and certifications of documents - in all state administrations and embassies on the country's territory.
Look for this sticker!
Offices for translation and legalization of documents - Velingrad
Velingrad - Dimitar Blagoev
Velingrad
---
България, Велинград
ул. Димитър Благоев №28
+359876057495
vln.dimitar.blagoev (at) lafit-trans.com
Worktime
Понеделник – Петък: 09:00 – 18:00
---
Give us a call
Translation of documents
Translations from and into more than 50 languages from certified (sworn) translators by the Directorate "Consular Affairs" to the Ministry of Foreign Affairs.
Legalization of documents
Preparation of documents for legalization and certification, as well as their their filing in various state administrations and embassies.
Interpreting
Interpreters for simultaneous and consecutive translation. Accompanying and performing the formalities relating to executing transactions before a notary public. Providing equipment for simultaneous translation.
Specialized translations
Translation of documents with technical, medical, legal, financial etc. terminology by specialized translators.
Online translations
Online translations through a specialized centralized information system and client profile.
Certified Translations
Certification of translations of official and private (unofficial) documents and other papers.
Do you need translation and legalization of documents?
You can request an order for translation and legalization of documents at our headquarters, at an office from the office network or through our online platform
Contact us